New local partnership is formed
Staff safety solution Safepoint has announced its new partnership with the Anglia Farmer Group (AF Group) – the UK's leading farmer-owned buying group – to offer a tech-based safety solution to protect their members working within the farming sector.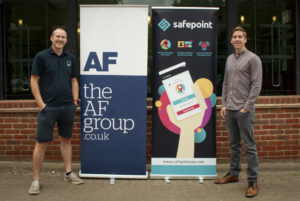 Supported by Comm-Tech, a leading supplier of business communications, who are assisting with the sales and support, members who will now be able to sign up to Safepoint's service directly through their AF Group account.
Michael Simnett, Communications Projects Lead for the AF Group, says:
"We have been looking for a system that gives farm owners and farm managers the ability to look out for the welfare of their staff, especially during tasks undertaken whilst working alone. Mental health and farm safety are key areas within the farming industry with owners looking out for the wellbeing of their staff. The Safepoint system is very user friendly, easy to navigate and a perfect for all types of memberships of our AF members".
This month also sees the launch of Safepoint's GuardianPlus service providing a dedicated 24/7 emergency response team on hand to manage any emergency situations for those businesses that have signed up to the plan. Based in East Anglia, Safepoint's GuardianPlus Response Centre is a fully accredited state-of-the-art monitoring and alarm receiving centre (ARC), manned by a team of highly skilled and qualified experts, trained to deal with emergency situations.
Callum Coombes, CEO, says:
"Our goal at Safepoint is to make protecting your staff so easy and accessible that there's no reason not to do it. Up until this point, businesses were responding to emergency alerts internally when using Safepoint, so we wanted to take this responsibility off their hands. This makes 24/7/365 real-time staff protection as easy as just downloading an app to your phone, there's really nothing else that you have to do".
Since 2019, Safepoint has successfully raised nearly £300,000 of investment with new funding secured this round through SFC Capital, University of East Anglia and New Anglia Capital. Officially launching a year ago. Safepoint's innovative technology has helped hundreds of workers stay safe across a number of sectors including agriculture, health & social care, property and offshore / shipping.
For more information about Safepoint visit www.safepointapp.com
Innovative diagnostics company, Glyconics® has been awarded an internationally recognised quality certification for...