Createch – Ones To Watch 2021 Showcase Urban XR
INNOVATING HOW WE ENGAGE WITH SPACE AND PLACE
There's no strategy to guide how the digital and physical combine to influence the nature of our towns and cities. Yet Google, Niantic Studios (Pokemon Go) and Snapchat are accelerating the private mapping and storing of digital physical copies of these spaces, enabling augmented and mixed reality directly into our streets.
How do our urban spaces adapt?
The UK should be world-leading for integrated physical and digital urban design. Being recognised as a CIC CreaTech One to Watch will help Urban XR make it happen.
Collaborative practice Urban XR is pushing the boundaries of the built environment using creative extended reality (XR) – the collective term for augmented, mixed and virtual reality. Urban XR is pioneering XR applications that deliver innovation and growth.
It's driven by experienced architect and passionate East of England entrepreneur James Lee Burgess.
BEGINNINGS
James Lee Burgess was inspired by the opportunity for Microsoft's powerful mixed reality Hololens 2 headsets to:
• change how we develop buildings and the urban environment
• address digital skills gaps
• deliver better efficiency, safety and collaboration.
In 2020 Urban XR launched Construct.XR, a collaborative training, research, and education programme. It's focused on:
1. creating opportunities for industry stakeholders to get hands-on learning about XR
2. testing commercial applications of the tech
Urban XR was first in the UK, and one of the first globally, to use Trimble's enterprise class XR10 Hololens2. These impressive headsets facilitate sharing and collaboration with 3D data overlays and remote access.
Urban XR' full support package – hardware, software and support expertise – enables partners and clients to benefit from the technology for educational and commercial applications.
Even Trimble uses the unique programme for its own learning and development.
CONSTRUCTXR DELIVERS
Supporting future talent Urban XR shares intel about XR and its use across its social media channels and website to benefit clients and industry.
From individual training for industry professionals to supporting Norwich College's T-level students, to delivering industry talks and podcasts, Urban XR are constantly innovating on how to communicate the benefits of XR.
Delivering commercial impact:
Norwich City College's Digi-Tech Factory is a new learning space for digital skills. This forward looking Urban XR engagement is perfect for XR. The design team and students used it throughout: overlaying design models on site during ground works, using remote assist video calls for system snagging and giving construction students hands on experience during the build.
Transforming a grade 1 listed medieval castle into a fully accessible public space is a major challenge. Urban XR used XR for the complex and sensitive steel work installation into Norwich Castle Keep. A non-invasive approach was ideal. The work at Norwich Castle is estimated to have saved at least 6 days of co-ordination work for the steelwork alone, not to mention anticipating and mitigating potential expensive clashes with historic fabric.
Being associated with industry firsts and ground-breaking work has secured global interest in Urban XR. In one international collaboration alongside clients in Norway and China, Urban XR is using XR technology to help Offshore Heavy Transport (OHT) to market its new Alfa Lift – the world's largest custom built vessel for installing offshore wind foundations. XR makes the enormous vessel accessible – essential for communications.
NOW AND FUTURE:
Championing XR in regeneration and urban design is the natural evolution of Urban XR' mission. It's working with Flagship Housing on its social housing regeneration programme. Urban XR will be using XR to facilitate design reviews and public consultations with residents.
Urban XR successfully piloted an immersive AR experience for Ipswich Business Improvement District's Digital Town Centre initiative that included an overlay of rainbow colours to thank the NHS on the Town Hall. The multi layered town user experience concept looks to engage communities via 3D artwork, positive messaging and educational content linked to the physical urban environment.
Urban XR is now in talks with Ipswich BID about phase two, including a publicly available AR app and volumetric video. Expect to see Cardinal Wolsey come back to life in Ipswich very soon.
Successful XR strategies increase footfall, safety, flexibility and enjoyment of our urban spaces.
The direction of travel of XR is inevitable, as wearable technology and phone intelligence allow us to make continual leaps towards the democratisation of data in our urban environments. This data and how it is overlaid and integrated into our real time experiences of towns and cities will fundamentally change how we engage with space and place.
Urban XR, through our expertise in tech, urban design and collaboration, is spearheading this change now.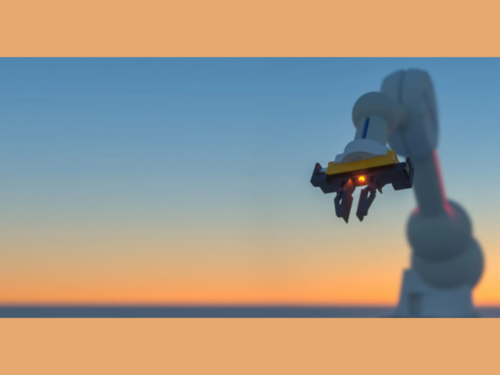 Participate in Innovate UK's impact study and help create a stronger and more globally competitive UK service...