Startup Pitches #12 – Greenr, Scoop, Find My Tea + TBC
23rd Nov 2021, 6pm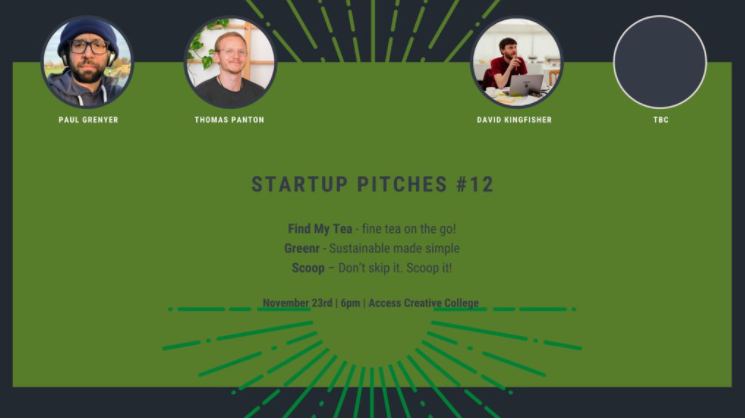 We are back with our first physical event in exactly 2 years!
Access Creative College (located in Epic Studios) have kindly offered to host us.
This month we are going for a sustainability themed pitch event, but initially kicking off with a cup of tea.
** Pitches **
– Find My Tea – fine tea on the go!
– Greenr – Sustainable made simple
– Scoop – Don't skip it. Scoop it!
– One more TBC
** Agenda **
6.00pm – Arrivals & Networking with Pizza & Beer
6.15pm – Intro
6.30pm – PITCH 1 -> Find My Tea
6.40pm – PITCH 2 -> Greenr
6.50pm – PITCH 3 -> Scoop
7.00pm – PITCH 4 -> TBC
7.10pm – Q&A
7.30pm – Vote for Best Pitch
7.45pm – Networking & Quick Drink
8.00pm – Close
** PITCH 1-> Find My Tea **
Tea made simple
Whether you're looking for loose leaves or tea bags to take home, or a cafe to unwind in with your favourite blend – it's easy. Simply type in your location OR postcode, and you'll soon be able to find the shop or cafe SERVING the tea that touches your tastebuds. Simple.
> https://findmytea.co.uk/
> https://twitter.com/FindMyTea
Speaker Paul Grenyer is a husband, father, software engineer, metaller, Paul has been writing software for over 35 years and professionally for more than 20. In that time he has worked for and in all sorts of companies from two man startups to world famous investment banks and insurance companies. He has built and run three limited companies, none of which made him a millionaire and two of which threatened his sanity on more than one occasion.
> https://www.linkedin.com/in/pgrenyer/
> https://twitter.com/pjgrenyer
** PITCH 2 -> Greenr **
We're building the biggest sustainable shopping platform in the UK
💚 Discover sustainable products you love, made by companies that care
🔍 Clear labelling shows how each product is sustainable
✊ A platform that gives back to communities & good causes
> https://greenr.co.uk/
> https://www.instagram.com/shopgreenr/
Speaker Thomas Panton is founder and CEO of Greenr. Previous founder at Festovers, and consultant for Pitched For You – circular economy solutions to the festival tent crisis
> http://www.instagram.com/thomas_panton
> https://www.linkedin.com/in/thomaspanton/
** PITCH 3 -> – Scoop **
Scoop allows businesses to track the waste, recyclable and re-usable materials they produce with the tap of a phone.
Scoop has teamed up with Neil Garner & Thyngs, with all their expertise working with tagging technology to bring this to life.
Using NFC/QR code stickers unique to their business and material types, every business can have transparency of what they produce.
The data and insights that Scoop provides allows businesses to make better and more sustainable decisions in their everyday waste management.
By connecting those producing the materials and those who can use and process it, we aim to turn waste producers into material providers.
> scoopmybin.com
> https://twitter.com/ScoopNorwich
Speaker David Kingfisher is CEO of Scoop, has competed in all the Sync the City events, including winning two and previously worked at Rainbird.ai.
> https://www.linkedin.com/in/david-kingfisher-81770557/
** PITCH 4 -> TBC
Book now
Access Creative College Norwich 114 Magdalen Street · Norwich
Organiser: SyncNorwich