Tech East's guide to the public sector procurement process
Good news: the government is committed to working with SMEs. According to Marketing Donut, the government wants SMEs to service 33% of its public sector contracts by 2020.
While larger corporations are still encouraged to apply for public sector projects, the government has taken several steps to "level the playing-field" for SMEs. These include the simplification of the bidding process, more SME-friendly payment terms, and the potential to split large projects into smaller jobs suitable for SMEs.
Though we are delighted by any moves that can benefit tech businesses – including SMEs and startups – the motivation behind these changes is anything but altruism. According to this report by Atos from the Institute of Directors, the UK has a real problem with productivity, and the government is hoping tech can solve it. Here's what Theresa May has to say about it:
"This active government will build on Britain's strategic strengths and tackle our underlying weaknesses, like low productivity. This is vital because if we want to increase our overall prosperity, if we want more people to share in that prosperity, if we want higher real wages, and if we want more opportunities for young people to get on – we have to raise our productivity."
The report also points out McKinsey research estimating that digital solutions could "deliver productivity improvements worth at least $1 trillion across the global public sector."
Though the public sector may carry connotations of stuffiness and slowness to change, winning a public sector project is desirable for many tech firms. Public sector projects are generally well-paid, with transparent contracts and prompt payments. Likewise, the long-term nature of the projects makes them a reliable source of income. There is also a certain amount of prestige associated with being a public sector supplier.
Winning public sector work may sound complicated, but it can be done! In fact, a number of TechEast members already supply digital services to public sector organisations. Ipswich-based digital agency, Free Rein, provides digital services to UK government business support teams, as well as the Ministry of Justice and Criminal Justice System. Digital healthcare solutions agency, Wiggly Amps, provides the NHS GP System of Choice framework.
So, how does a tech business become a supplier to the public sector? It all starts with the Digital Marketplace.
We spoke to Nicholas Glover of Crown Commercial Services who said:
Crown Commercial Service (CCS) is the UK's largest public procurement body, working with over 5,000 suppliers who offer their goods and services to public bodies through CCS procurement frameworks.
CCS is responsible for delivering on the Government's aspiration to level the playing field for smaller businesses who want to deliver goods and services to the public sector.
For small companies, there are some quick things you can do now to make sure you're maximising your chance of finding and bidding for contracts:
Go to the Digital Marketplace and sign up to become a supplier. Our procurement agreements, like G-Cloud and Digital Outcomes and Specialists, open regularly for new suppliers.
Don't forget to sign up for Government opportunities. The best place to start is Contracts Finder (http://www.gov.uk/contracts-finder) where opportunities over £10,000 are published. You can search for opportunities in different sectors, including those close to where you're based.
Check CCS's Procurement Pipeline to see which new agreements we're developing, and where they are up to.
So the simple answer is…it all starts with the Digital Marketplace!
The Digital Marketplace is where public sector organisations go to find specialists who can work with them on tech and digital projects. There are over 310 pages of guidance on who can buy services from the Digital Marketplace, but it includes central government departments and local authorities, and wider public sector bodies.
Unfortunately, it's not as simple as just listing your business. The Digital Marketplace is divided into three different frameworks, so tech suppliers need to be sure they're on the right one. Here's what they are:
G-Cloud: For cloud hosting, software, and support
Crown Hosting: For physical data centre spaces
Digital Outcomes and Specialists: For digital outcomes, specialists, and user research facilities and participants
Each of these frameworks have their own subtle differences, so for the purposes of this article we're going to focus on G-Cloud and Digital Outcomes and Specialists.
Firms can only apply to these frameworks when an Official Journal of the European Union contact notice has been issued. These notices advertise upcoming contract opportunities. Once this happened, firms will have 4-6 weeks to apply to the framework.
Applying to these frameworks involves answering many questions, and uploading clear descriptions of your business and services. Tony Addison, Director at Free Rein, said:
"Spend quality time getting onto the frameworks in the first place. Be clear and concise but don't assume people reading it have either a detailed technical understanding or lack it. CCS wants as many public organisations to use this as possible so write for the wider audience, breaking services apart if that makes it clearer."
If you don't manage to successfully apply first time, don't worry. On average, new contact notices are issued every 6-12 months. Once your firm and services are listed on the platform, buyers who want to engage you must enter into a contract and agree to your terms and conditions.
Check out the government website for thorough step-by-step advice to listing your services on the Digital Marketplace
Public sector procurement can be time-consuming. Tony Addison of Free Rein said: "Getting onto the G-Cloud III framework was not a quick and simple task though as we needed to define our customised and bespoke services in an almost productised format."
Getting onto G-Cloud is only half the challenge. Once your business is listed, it can take a while for the contracts to come in. Tony said it took Free Reign two years to win a contract on G-Cloud. If you don't succeed straightaway, don't just wait for the work to come in. Tony recommends "engaging with national departments and presenting your framework capabilities as a routine."
For services listed under Digital Outcomes and Specialists framework, buyers will post opportunities for which you will need to apply and be evaluated as part of a "call off competition". However this is a far quicker and simpler process than competing for public sector opportunities outside the framework and provides the opportunity to actively engage with opportunities when best suits your business.
The lengthy process of winning public sector work is due, in part, to the associated bureaucracy. Jon Wittle, managing director at Wiggly Amps, said the process involved reading "copious piles of documentation". His following statement also gives a flavour for the levels of bureaucracy associated with public sector contracts:
"Like most businesses, there were large tracts of our day to day operations that were well understood, but not that well documented. Where the contracting Authority asked for evidence of how we did things, we found ourselves writing a lot of it up for the first time as well as having to look closely at our existing documentation. However, it's not all bad. We really got into this, and the introspective look prompted a lot of improvements."
Once you've landed a contract through G-Cloud, Digital Outcomes and Specialists or other frameworks, firms are required to pay a fixed rate of commission to Crown Commercial Service (CCS) who manage the procurement process. It's not very much commission – 0.5% – but you should remember to factor this into your costs when you list services. Your terms and conditions cannot be changed once the framework is live.
Though the process seems daunting, Tony reassures us "CCS support is very good".
If you'd like a little more help, professional agencies exist to help you through the application process. A quick online search for "public sector procurement consultants" will pull up loads of results. However, fees for these services can often be expensive – and that's on top of the CCS commission. If you have the time and the patience, you can win public sector contracts without the support of a consultant.
What about selling to the NHS?
As well as looking at the resources on the Crown Commercial Services website, we'd also recommend finding out more about the Eastern Academic Health Science Network which provides advice and support for digital businesses wishing to engage the NHS.
Good Luck!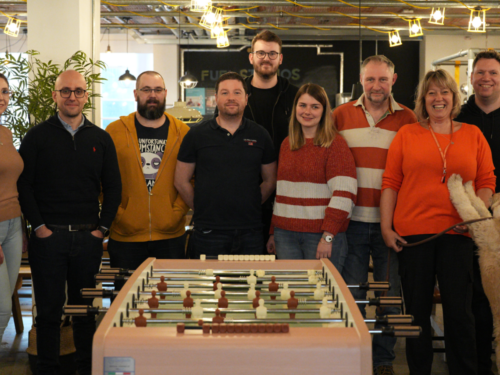 Norfolk-based Tech Educators has partnered with The Bradfield Centre to support eligible students wishing to become...