Tech East Member Spotlight: Tiger Eye Consulting
Our featured Member Spotlight this month is Tiger Eye: a Norwich based software reseller and development company. We caught up with Dave Wilson, Manager Director at Tiger Eye, about how the firm has grown from strength-to-strength, and what East Anglia needs to do to succeed as one of the UK's top five tech hubs…
Hi Dave! Can you tell me a bit about Tiger Eye Consulting: what do you do and who do you work with?
Tiger Eye is a software solutions provider: as well as developing our own products, we also provide consultancy and support services on many third-party software products.
We mostly work with clients in the legal, accounting, and finance sectors, but we also work with property firms and chartered surveyors. As an example, one of our clients is Birketts, who are one of the largest law firms in the area.
The software solutions we provide manage the millions of documents and emails that are generated on a daily basis. They allow them to be securely stored, easily accessed and stop them from being sent to the wrong people.
What is the Tiger Eye story: how and why was the company founded?
The Tiger Eye story starts back in 1999: at that point, I was working with the software manufacturer of one of the products we still resell today. We grew that business substantially over the next four years and merged with another company in 2003, I continued to work with that firm until leaving in 2005.
I have always been interested in business, since the early stage of my career when I completed an apprenticeship in electronic engineering and since then wanted to start my own company. When the opportunity arose in 2005, I took it.
Tiger Eye started as a software consultancy firm, but since then we have moved into also providing support and software development services.
Over the last 13 years, we've grown slowly and organically. Our team now consists of 17 talented people, as well as support from freelancers in professional services such as marketing, HR, and training.
How has the last year been for Tiger Eye?
The last twelve months have been amazing! As was for the case for many companies, we found business slowed down a little after EU referendum result in 2016. However, it gradually started to pick up again and since then hasn't stopped!
My wife Julie, who is a fellow Director and looks after Admin services and Finance, seems to have been constantly recruiting for new members of staff and we have seen a substantial increase in the workload for the account team.
This has certainly been our busiest year so far, achieving 95% growth and hitting 160% of target with many new clients on the books.
Where would you like the company to be this time next year?
We want to continue to grow steadily – we grew very quickly last year to cover a big influx of work. Ideally, we'd like a 30% increase in staff and business over the next twelve months which we feel is easily achievable.
We'd like to expand our business and take on more office space in our current building in the heart of Norwich. We would like to create more opportunity for jobs for local people, and we also intend to explore the possibility of opening an office in central Europe over the next year. Norwich is an important base for us and we'd never leave here, but we need to look towards other opportunities further afield too.
How is Tiger Eye involved in the East Anglian tech community?
East Anglia's tech community provides incredibly valuable support to the businesses that reside here. Several of our developers attend the Norfolk Developers meet up group (NORDEV). Though we haven't been as involved as much as we'd like to be (the last year has been incredibly busy for Tiger Eye), we do appreciate the value of the support network in the region. And of course, we are members of TechEast!
 What do you think are the biggest strengths and challenges for East Anglia as a tech hotspot?
East Anglia has many strengths that make it a great place to base digital businesses. As we mentioned above, the supportive tech community in Norwich is invaluable and we're especially impressed with the tech community surrounding UEA – a lot of innovation happens there!
The quality of life is really high in Norwich (and East Anglia generally) which makes it really easy to achieve a great work-life balance. None of us ever struggle to get into work on a Monday morning as we all want to be here!
Although transport links in East Anglia have room for improvement, we do value how easy it is to get down to London to see clients. It's also relatively easy to get up North too, which is handy for meeting our other clients based in Leeds and Newcastle. We don't see the East as an isolated area at all, but we do love the unspoilt beauty of the countryside around here.
One of the biggest areas for improvement would be better broadband across East Anglia. We'd like for staff to be able to work from home if they need to, but this can be a real challenge for those in rural areas. We don't have any problems in Norwich, which makes it a great place for Norfolk's 'tech hub', but we'd really like to see this connectivity spread across the region.
Why did Tiger Eye Consulting join Tech East?
We were looking for ways to take part in the local tech community. As the over-arching body for all things digital, joining TechEast seemed like the obvious choice. We really support the work TechEast does to promote the technical aspects of the area. We often find firms in London and beyond have completely the wrong impression of the region, due largely to legacy stereotypes.
The London TechEast embassy is also a big perk: it's very handy having somewhere to base ourselves when we're in the capital.
Anything else you'd like to add?
We're a friendly bunch, and we're always keen to connect with other local businesses. If you're a tech company that wants to collaborate, please do get in touch!
We'd also like to hear from anyone interested in being a part of Tiger Eye as the company grows. If you're interested in what we do, please get in touch!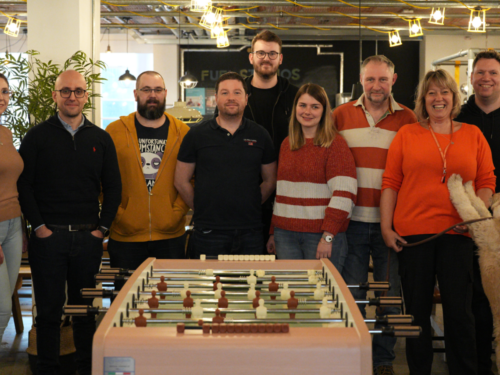 Norfolk-based Tech Educators has partnered with The Bradfield Centre to support eligible students wishing to become...