Tech East Member Spotlight: Coderus
Our Member Spotlight this month is Coderus: Ipswich-based provider of software design services. We chatted to founder, Mark Thomas, and Director of Business Development, Peter Lee about the Coderus story and life at Innovation Martlesham.
Hi guys! Can you start by telling us a bit about Coderus?
Coderus is software development and consultancy firm, based at Innovation Martlesham in Suffolk. We provide high performance, high resilience solutions to help businesses make the most of their hardware and tech.
Our work includes app development, embedded software solutions, and creating state-of-the-art platforms and interfaces. We consider ourselves enablers of the 'Internet of Everything': the connected world is no longer just about devices, but interconnecting people, buildings, vehicles, and more.
We work with clients across sectors, including speaker manufacturers Bowers & Wilkins, and the Land Rover BAR yachting team. We also work with other businesses within the Innovation Martlesham cluster, such as GlazeAlarm, BT and BT Openreach.
We're a team of just under 25, and we're still growing. Mark is a very 'hands on' founder, and he spends a lot of time mentoring the team – especially working with our graduate developers and interns. Talent is essential to our success, so it's worth getting this right!
Mark – how did you start Coderus?
I've always wanted to start my own company, and have a long history of working on family run farming businesses. Combined with my lifelong interest in technology, running my own digital business seemed like the natural progression.
The very beginnings of Coderus started over 20 years ago, when I was looking for something a little more challenging than my day job. I would take part-time jobs with large tech companies, building digital solutions to help them overcome challenges. However, Coderus was officially 'born' five years ago, when I finally quit my day job. Since then, we've grown to a team of 25 people, across three offices.
Where would you like Coderus to be this time next year?
We're thrilled with the growth Coderus has seen so far, so we'd like that to continue. We've invested heavily in recruitment, which will ensure that we continue to offer high quality service to our customers.
Can you tell us about Coderus's involvement in the East Anglian tech community?
The Coderus team is passionate about software development and tech, so we want to make sure the region's dev community is the best it can be. Talent is vital to the success of tech in the East, so we want to inspire the next generation of developers.
We want to encourage a wide range of people to get into software development – especially those who've never considered a career in tech. That's why we get involved with lots of regional meet up groups, including SyncIpswich, SyncDevelopHER, and the Suffolk Creative Computing Club.
We also host our own tech community events for knowledge-sharing and networking. Earlier this month, we held a free livestream of I/O 2018: Google's annual developer conference. This is the fourth time we've held this event – the only one of its type in the region – and we're delighted to report the highest ever attendance figures, too. In June, we're hosting a livestream event for Apple's developer conference at the Ipswich Waterfront Innovation Centre. Both these events are supported by Innovation Martlesham and TechEast. We're a vibrant company that has benefitted from local talent and believe in giving back. Over the years, Coderus has built strong collaborative links at high school level, working with local schools such as Farlingaye, Kesgrave and the Royal Hospital School. We're also proud to be a driving force for tech in the HE sector and have collaborated on several projects with The University of Suffolk and The University of Essex.
We want to grow the region's tech sector, and we're committed to investing our time and effort in doing so.
What is it that makes East Anglia a great place for tech firms to do business?
The brilliant Innovation Martlesham ecosystem at Adastral Park is an asset to the region, and helps to support and nurture tech. Having so many innovative businesses in close proximity means you're always bumping into likeminded individuals and having engaging conversations.
With its green spaces and close links to London, the IP5 area holds many attractions for families and young people alike. The Waterfront area around the University of Suffolk is a buzzing area that has something to offer everyone, from tech meetups to great places to game, drink and dine. This lends itself perfectly to developers looking to find a stimulating tech career outside the M25 – although you can be in London within 1 hour 30 minutes if you want to be!
TechEast's mission is to make East Anglia one of the UK's top five tech hubs by 2020 – what challenges do you think the region needs to overcome to make that happen?
Due to its impressive academic and business connections, most people are aware of Cambridge's strong tech presence. While we're big supporters of it, the rest of East Anglia is perhaps a little overshadowed by Cambridge's tech scene.
Investors, government departments, and other tech businesses can overlook Suffolk and Norfolk in favour of Cambridge, as they just don't know what's going on here. However, the brilliant work carried out by the ambassadors at Tech East, Innovation Martlesham and down the road at IP City will ensure that Suffolk thrives as a tech centre while retaining the agricultural roots that we're traditionally known for.
There's also the conception that East Anglia struggles for connectivity. However, being part of the Innovation Martlesham cluster, I can say that's never been an issue – in fact, it's one of the reasons we chose to locate here! We'd like to see these high broadband speeds extended across the county. In fact, its essential if East Anglia is to be a top five UK tech hub by 2020.
And finally, why did Coderus join TechEast?
Whatever you're trying to achieve, a unified approach is always stronger. There are lots of individual groups promoting tech in the region, but TechEast is the over-arching organisation that draws these separate entities together. With its links to businesses, universities, and local authorities, TechEast helps encourage collaboration, and amplify the many voices of tech. TechEast is unequivocally a force for good for tech, and we are keen to be involved in this!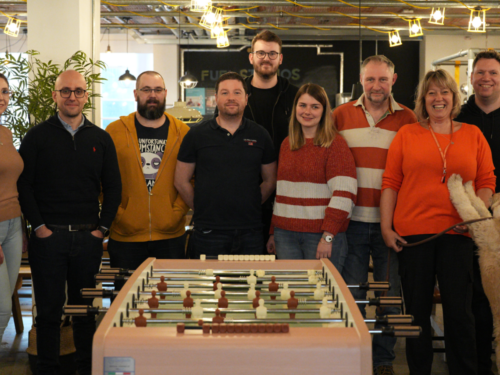 Norfolk-based Tech Educators has partnered with The Bradfield Centre to support eligible students wishing to become...