Neil Miles – Changing Perceptions of Digital Tech in the East Of England
18 April 2016
Did you know the UK's rail ticketing infrastructure, mobile payments, energy retail, national flood warnings and of course "the home of broadband" – are all technologies and innovations created in the East of England?
The East has not fared well in terms of inward investment, maybe it's because we have not spent enough time promoting our achievements or perhaps some feel the East is a success story that doesn't require additional support?
We believe this needs to change. Quite simply, invest more in Suffolk and Norfolk and you will get a higher return on your investment. This was exactly our challenge, when a team of business leaders from the East met Sajid Javid, Secretary of State for Business, Innovation and Skills.
Tech East, which aims to unite the tech clusters across the East of England, needs continued support and engagement from government and from the business community to help our digital tech business (in concept, small, medium and large) to grow.
Three key hurdles need to be overcome:
Business leaders need to be directly engaged in Tech East – being business led means we can shape and develop our support for what businesses actually need to grow and flourish. Your individual engagement and support will shape the sector and accelerate its growth
Securing sponsorship/membership of the proposed Tech East Embassy – one critical milestone in our plan is to establish a physical presence in London – the Tech East Embassy. This will connect the region's businesses with this critical trading hub, providing a showcase for businesses and encouraging inward investment. To progress this we need anchor sponsors and businesses to register their interest in ongoing membership
Interim funding of Tech East – much of the time spent by our team is "in kind", though to deliver this exciting plan Tech East needs interim funding until it can become financial sustainable
I am immensely proud to be a part of the digital tech sector in the East, both the innovation and business success of the sector makes such a significant impact on the region's economy, underpinning this region as only one of three areas that are net contributors to UK PLC. Being able to promote and accelerate this growth, via Tech East is something we are determined to do, to create even more opportunities that benefit all in Suffolk, Norfolk and throughout the Eastern Region.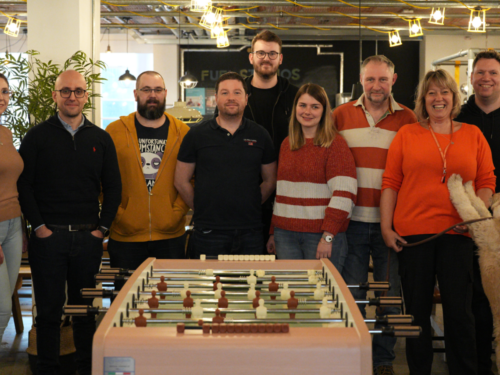 Norfolk-based Tech Educators has partnered with The Bradfield Centre to support eligible students wishing to become...