East of England unites tech clusters to drive £650M in economic growth
18 April 2016
Tech East – aims to underpin the creation of 5,000 additional digital tech jobs by 2020
A move to place Tech East as one of the UK's top five digital tech clusters
The combined entity will match both Birmingham and Bristol/Bath tech clusters in size
Today, TechEast launches with a four year plan to underpin the creation of 5,000 new digital technology roles in the East of England.  This will be executed through provision of support to existing and startup companies and launching of initiatives to help drive growth – including a TechEast embassy to launch in London this summer.  Tech Nation Report 2016 from Tech City UK* launched in February this year, found 152,136 digital tech jobs in the East of England, with tech companies accounting for £4.6bn in economic value.  The main tech centres in the East are Cambridge (18,532 jobs), Ipswich (9,981 jobs) and Norwich (5,306 jobs) – adding the 5,000 new jobs equals a proposed TechEast cluster of approximately 38,819 jobs, putting it in the top 5 list UK tech city clusters.** TechEast was established to address three key challenges to the East's tech cluster expansion and success:
1.  Low understanding of the East's rich tech heritage and current capabilities at a national level
2. Win further government and company investment in the East's digital tech economy
3. Training more tech specialists and attracting new digital tech talent to the region
Tech East will be chaired by Neil Miles, Executive at ANDigital and the former Managing Director of Ipswich based Smart421, who will lead a team of business people, representatives from academic institutions, public services, tech networks and business groups to deliver the cluster's six point manifesto.***
Neil Miles, Chair of Tech East said: "Today's event unites almost 100 business and political leaders from the East to make the Tech East six point manifesto a reality."
"Our mission is to help attract investment and provide support for those looking to start, grow or locate their digital tech business in the East.  We will combine ideas and resources across the region to amplify the East as a place where digital tech businesses thrive."
"For the last six months, tech businesses and supporting organisations across the East region have been working together to investigate the opportunities created by capitalising on the region's existing success.  Our ambition is to be recognised as one of the Top 5 tech clusters in the UK."
Baroness Neville-Rolfe, Parliamentary Under Secretary of State at the Department for Business, Innovation and Skills, commented: "I am pleased to support the launch of Tech East, and its mission to accelerate the growth of the digital tech economy across the East.  This year's Tech Nation report recognised the strengths of Norwich and Ipswich as centres for technology and innovation which already support 15,000 jobs in the sector and have huge potential to grow.  Tech East will give a voice to digital tech businesses in the region, building on the excellent work already done by New Anglia Local Enterprise Partnership and local authorities to promote the East as a high technology cluster and a great place for new tech businesses to start and grow."
Gerard Grech, Chief Executive of Tech City UK, added: Tech City UK's Tech Nation 2016 report showed that over 150K digital tech economy jobs exist in the East of England, contributing almost £5bn of Gross Value Added. This includes world-class technology cluster, Cambridge, internationally-renowned Adastral Research Park in Ipswich and Norwich's fast growing digital creative community. We welcome the launch of Tech East to help continue growing this digital ecosystem and we look forward to working with them in the future."
Tim Whitley, Managing Director of Research and Innovation at BT, commented: "BT has been an innovation pioneer for 170 years, and we continue to unlock new opportunities – nowhere more so than Adastral Park, our global research and development campus in Suffolk, which employs 3,500 scientists and engineers.
"The East of England is an increasingly vibrant hot bed of invention, and a great place to develop cutting-edge technology. The first GPRS mobile data call was made in the East, 90% of all smart phones in the world use chip-sets designed in the East and the world's entire fibre-optic communications infrastructure is based around work carried out by BT here in the East."
Digital business leaders in the East of England will gather on the 18th of April to lay out its ambitious plan for greater recognition and investment in the East of England's digital tech sector with the launch of Tech East.
Further information can be found at www.techeast.com.
-ends-
* Link to Tech Nation Report 2016: http://tinyurl.com/glpdygh
** Digital tech economy job numbers below, from Tech Nation Report, published February 2016
1 London – 328,223 jobs
2 Manchester – 51,901 jobs
3 Reading & Bracknell – 40,440 jobs
4 Birmingham – 36,768 jobs
5 Bristol & Bath – 36,547 jobs
***Tech East Six Point Manifesto:
1. To promote digital tech growth and excellence in the East using local tech businesses as examples in order to attract new business and talent from other parts of the UK and internationally
2. To establish a Tech East 'embassy'; a physical presence in London showcasing businesses and the sector, aiding business development and encouraging inward investment
3. To galvanise the sector by speaking with one voice to amplify the benefits for Tech companies in the East
4. To excel by sharing best practice between members and ensure that TechEast companies are amongst the best run tech companies in the UK
5. To be recognised as the UK's most open and collaborative digital tech cluster where new companies and entrepreneurs can thrive and grow in a supportive environment
6. To work with local and national educational partners to develop the relevant sector skills and benefit from cutting edge research
By succeeding with the above, Tech East will create a further 5,000 jobs and generate an extra £650M GVA of economic growth in the East (calculated via £53,000 per new additional digital job between 2016 and 2020).  Creating one of the UK's Top 5 tech clusters by 2020.
NOTES TO EDITORS
For further information, media should contact Paul Howlett-Davey at Milner Strategic Marketing on07802 655070 or paul.howlett@milnerltd.com
CAMBRIDGE – Key companies include: ARM (semiconductor design and global leader in low energy semiconductors for mobile devices), Cambridge Display Technologies (OLED displays), AVEVA, Autonomy Corporation and Cambridge Silicon Radio.  Specialisms include computer gaming (firms such as Frontier Developments and Jagex Games Studio), as well as innovative tech firms such as Owlstone (gas sensors on microchips), and RealVNC (remote control of computing and smartphone devices).
NORWICH – Known for its thriving agricultural, food and energy sectors, Norwich is an early stage cluster, exhibiting growing strengths in digital advertising and marketing as well as networking.  Local businesses include Proxama, artificial intelligence company Rainbird and local technology entrepreneurs Axon Vibe.  One of the Norwich cluster's leading benefits, is its access to talent – the area has the third highest concentration of science and research parks in the country and two leading universities – The University of East Anglia and Norwich University of the Arts.
IPSWICH – A growing digital cluster encompassing new start-ups including ITO World, Sharedband and Silicon Safe, as well as more established tech companies like HTK and KCOM (formally Smart421).  Ipswich is also home to BT's Global Research and Development campus, Adastral Park, which employs over 3,000 scientists and engineers.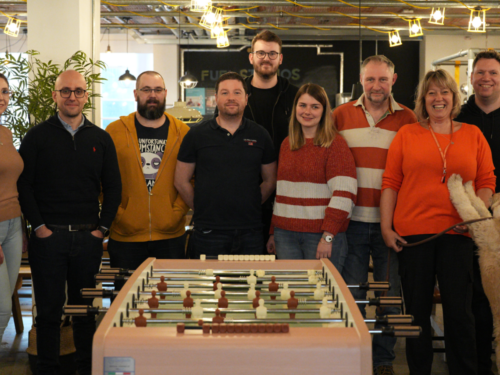 Norfolk-based Tech Educators has partnered with The Bradfield Centre to support eligible students wishing to become...