UKTN – Tech in the East of England May 2018 Roundup
EAST ANGLIA EXCELS IN 2018 TECH NATION REPORT
We were thrilled to see three East Anglian towns and cities featured in this year's Tech Nation Report.
First published in 2015, the Tech Nation Report is the government's 'barometer' for measuring the health, growth and importance of the UK's regional tech sectors. Cambridge, Ipswich, and Norwich have all featured in the last three reports.
According to the report, the East Anglian clusters turned over £2.9bn collectively and created 255 new tech startups in 2017. The region also contributed £2.3bn GVA to the economy in 2017, up from £1.18bn GVA in 2016.
The report also identified the features that make East Anglia a great home for tech businesses. All three hotspots flagged 'proximity to a university' and 'appealing area' as two of the biggest strengths of the region. Ipswich and Norwich also identified the region's 'helpful tech community' as a strength.
While overall it is positive, the region is not without its challenges. The report identified 'access to talent', 'limited infrastructure', and 'poor transport links' as three of the biggest hindrances to tech growth. Fortunately, progress is already being made to overcome these challenges. A number of non-profit bodies are working to improve broadband speeds in the region's rural areas, New Anglia LEP is prioritising transport and infrastructure development and TechEast is leading a digital skills task force seeking to grow the supply of key talent for the region.
To celebrate the launch of the 2018 Report, we joined Tech Nation on tour at the Bradfield Centre at Cambridge Science Park. Though the event focused on Cambridge's Tech Nation Report findings, we were pleased to hear Tech Nation CEO, Gerard Grech, mention Norwich in his opening address. In his own words, "innovation can happen anywhere."
We look forward to seeing how the region will build on the positives identified in the report over the next year. East Anglia has a strong presence of businesses in the agritech, manufacturing and life sciences sectors, so we are looking forward to seeing  how the practical application of tech, such as AI, can drive innovation in key sectors.
SAMSUNG TO OPEN NEW AI CENTRE TO CAMBRIDGE
Korean tech giant, Samsung, is to open a new AI research facility in the city.
The Samsung AI Centre, Cambridge (SAIC-Cambridge) will be chaired by Professor Andrew Blake, former Director of Microsoft's Cambridge Laboratory. Professor Blake is a pioneer in the development of the theory and algorithms that can make it possible for computers to behave as seeing machines.
The new facility will allow Samsung to engage with the UK's academic community, as well as creating an additional 150 tech jobs in Cambridge. Samsung has two other international AI facilities, one in Moscow and one in Toronto.
Cambridge already has a strong artificial intelligence presence, and is home to Europe's biggest AI company, BenevolentAI, as well as Darktrace, prowler.io and FiveAI.
Seunghwan Cho, Executive Vice President, Samsung Electronics, said: "The Cambridge area is a global epicentre of machine learning and one of the world's foremost hubs for AI research and development, home not only to world-class talent but also some of the most well-renowned AI scholars with whom we will cooperate closely. The intended outcomes of this centre's work will in future make a substantial impact on the development of the UK's digital economy, as well as help contribute to global technological breakthroughs."
Professor Blake said the new centre demonstrated Samsung's commitment to the development to AI and that he hoped it would "ultimately improve people's lives."
Encouraging the development of AI in the UK is a priority for the government, as highlighted by the recent AI sector deal. Prime Minister Theresa May welcomed the arrival of Samsung in Cambridge, describing it as "a vote of confidence in the UK as a world leader in artificial intelligence."
CAMBRIDGE SPIN-OUT PARAGRAF GETS £2.9M IN FUNDING
Cambridge University spin-out company Paragraf has closed its seed finding round with £2.9m.
Paragraf develops electronics devices using graphene. Graphene is useful for electronic items due to its high conductivity, strength, very low weight and flexibility. The substance can be used in very sensitive sensors and applied to everyday tech like LEDs.
The funding round was led by Cambridge Enterprise, an organisation set up to help spin-out companies and university academics attract funding. Parkwalk Advisors, Amadeus Capital Partners, IQ Capital Partners and angel investors participated in the round.
Prof. Sir Colin Humphreys, chairman and co-founder of Paragraf, said: "Graphene has been called the new wonder material, because of its potential to transform a range of industries such as electronics, energy and healthcare. However, so far, its applications have been limited because good quality graphene is only available in small flakes.
"Our underlying research has the capability to transform production by providing good quality, large-area graphene on a commercial scale."
£1M TOP-UP FOR EAST ANGLIAN STARTUP INVESTMENT FUND
New Anglia Capital has received an additional £1m from the New Anglia LEP to invest in local startups. This brings the LEP's total funding of the project up to £3m.
NAC is a co-investment programme between the New Anglia LEP and Anglia Capital Group. The programme aims to kick-start new products and innovative ideas into thriving new businesses, as well as support existing high-growth companies.
The fund was launched in 2014 and has invested £2m in 13 businesses so far, including a number of tech firms. Newmarket-based Spark EV received £50,000 seed investment, Norwich AI firm Rainbird received £28,000, and medical device company Ablatus Therapeutics received £200,000 for their cancer treatment tech.
Hannah Smith, business manager at Anglia Capital Group, said: "Startups and early-stage businesses are the impetus behind the UK economy, and angel investment is the largest source of early-stage capital in the UK.
"We are delighted that New Anglia LEP understands the importance of this form of finance and shares our vision to support a thriving start-up, innovation and investment ecosystem in Norfolk and Suffolk, with a clear impact on the economic health of the region."
WEST SUFFOLK COLLEGE SHORTLISTED AS INSTITUTE OF TECHNOLOGY
The Department for Education has announced that West Suffolk College in Bury St Edmunds is one of sixteen institutions on the shortlist to become an Institute of Technology (IoT).
The government wants to establish a network of 10-15 institutes across the country to provide learners with higher level technical skills. It is hoped the first will open in September 2019.
Each of the shortlisted providers is bidding for a share of £170m.
Founded in 1951, West Suffolk College providers further education courses and apprenticeships, as well as degree programmes in affiliation with the University of Suffolk. The college currently has 10,662 students studying at campuses across Suffolk.
A spokesperson from the Department for Education said: "IoTs will offer top-quality training and apprenticeships in higher-level technical skills – A-level equivalent up to degree level and above – helping to bridge a vital skills gap in our economy in areas like advanced manufacturing, infrastructure and digital."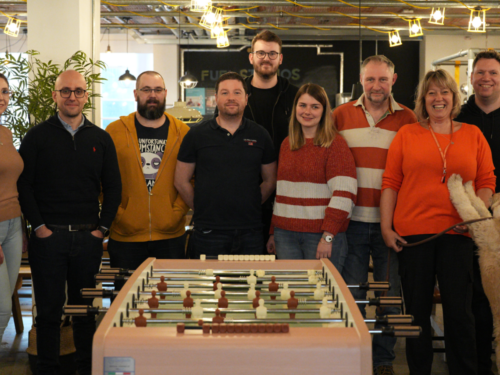 Norfolk-based Tech Educators has partnered with The Bradfield Centre to support eligible students wishing to become...