The New Tech East London Embassy
Call us biased, but we think East Anglia is one of the best places in the UK to run a tech company. The firms based here benefit from a supportive network of local meetup groups, and a number of world-class universities sparking innovation. It's also a beautiful part of the world, with a high quality of life.
While tech firms thrive in East Anglia, some things never change: London remains the UK's tech focal point. According to the Tech Nation Report, London is "second only to Silicon Valley for global connections".
There's no escaping the fact that businesses seeking national success need to travel further afield from time to time, most likely to the capital. Research published in City A.M. reveals that London remains Europe's top city for business travel – even despite Brexit.
No matter how much we love the East, it's unlikely London will lose its crown any time soon. That's why we offer our members hot-desking and meeting rooms at our London Embassy as just one of many Tech East perks.
When we ask members why they joined us, our London Embassy is often cited as one of the biggest draws. To make this perk even better, we have just changed the provider of our London Embassy: Tech East members can now enjoy the stylish and relaxed facilities at Runway East.
Welcome to our new home at Runway East!
We're proud to share our new Tech East London Embassy: Runway East, 10 Finsbury Square, London EC2A 1AF.
Located in the trendy East End at the heart of the city's tech cluster, Runway East is one of London's first tech-specific co-working spaces. The Runway East space is designed to help tech companies 'take off,' hosting tech startups with high growth potential, as well as investors and corporate innovation teams that support them.
Runway East is kitted out with state-of-the-art facilities, including
Hot desks
Free Wi-Fi
Bookable meeting rooms
Events and networking opportunities
Free coffee, tea, refreshments
Use of the Runway East members kitchen, communal spaces and call booths and event space
Golf course
Monday breakfast , Friday drinks , Wednesday cake  – Free to TechEast members
East Anglia is your oyster: the Workspace Passport
Of course, access to Runway East is just one small part of the Workspace Passport available to premium TechEast members.  We want to enable our members to be able to do business across East Anglia – not just within whichever 'tech cluster' they are based.
The Workspace Passport allows members hot-desk at locations throughout East Anglia, including: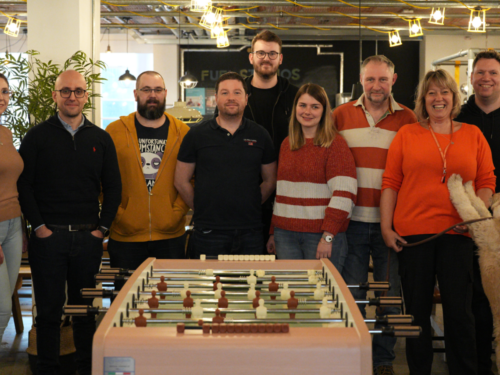 Norfolk-based Tech Educators has partnered with The Bradfield Centre to support eligible students wishing to become...