Inawisdom awarded APN Machine Learning Partner of the year 2020 by AWS
UK-based Inawisdom, a leading expert in Artificial Intelligence (AI) and Machine Learning (ML), announced today that is has been awarded the APN Machine Learning Partner of the Year 2020 by Amazon Web Services (AWS).
Each year, AWS nominates a select number of AWS Partner Network (APN) Partners who are leaders in the channel and play key roles in helping customers drive innovation and build solutions on AWS.
Announced by Darren Hardman, General Manager, UK&I for AWS, on 2nd November, the APN Partner Awards recognize the born-in-the-cloud and traditional AWS Consulting and Technology Partners whose business models have embraced specialisation and collaboration.
The award comes on the back of a successful year for Inawisdom, having already achieved AWS Premier Consulting Partner status, the highest tier for AWS Consulting Partners, as well as the AWS DevOps Competency status, all within 2020. It also marks another step in its strong relationship with AWS, who awarded Inawisdom the APN Differentiation Partner of the Year in 2019, with this award now adding another prestigious accolade to Inawisdom's growing market-leading capabilities in the AI/Machine Learning sector.
"We are beyond delighted with this award and the recognition for our expertise in Machine Learning", said Neil Miles, CEO at Inawisdom "World events have, of course, made this year challenging but we have focused on our customers to help them leverage AI/Machine Learning to drive differentiation and excellence in their business, and in turn to support their customers. The depth and breadth of AI/Machine Learning use cases is truly incredible, with organisations continually leveraging the value in their data to really make a difference."
"We are a proud, all-in AWS Premier Consulting Partner and AWS Machine Learning Competency partner, and our collaboration with AWS continues to deliver fantastic results for our customers, making this award very special."
Miles concluded "Thank you to AWS, the great Inawisdom team and of course, our customers for their commitment and innovation. We look forward to helping even more businesses to benefit from Machine Learning data insights in the future."
See Inawisdom co-founders Neil Miles (CEO) and Robin Meehan(CTO) react to the award win here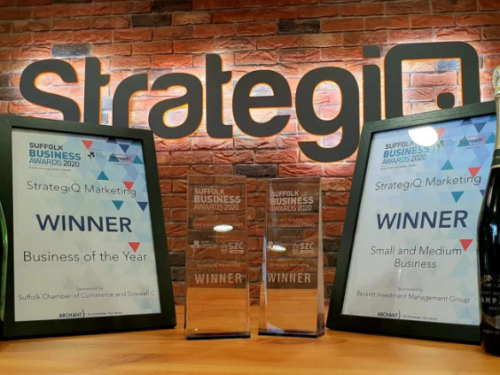 In 2019, we were delighted to be named Best Employer at the Suffolk Business Awards, in recognition of our approach...