Impulse Programme 2022 focuses on deep tech to support disruptive innovators
The renowned University of Cambridge Impulse Programme, created to nurture the brilliant minds of international academia, business and research organisations, opens applications for 2022. The sixth edition of the programme will focus on deep tech – empowering entrepreneurs and intrapreneurs with the skills and resources to accelerate their game-changing innovations into commercial success stories.
The enabling power of technology is driving global investment in deep tech startups, which has quadrupled in recent years according to BCG data. Tech Nation recently reported that UK deep tech investment increased by 17% in 2020, the highest rate of growth globally. This phenomenal growth in disruptive innovation has led to high demand for ongoing investment and skilled people to enable these startups to incubate and grow.
The unique Impulse Programme supports entrepreneurs, intrapreneurs and inventors to accelerate their idea or venture – indeed Impulse alumni has already raised £101 million of funding and their ventures support 392 new jobs.  It provides a supportive environment that facilitates collaboration with a wealth of mentors, VCs and business angels, experts in IP and law, industry partners and other like-minded individuals.
Among the Programme's dynamic mentors and contributors is advisory board member Florin Udrea, a Professor of Semiconductor Engineering at the University of Cambridge and co-founder and CTO of multiple award-winning deep tech companies Cambridge GaN Devices and Flusso.
Serial entrepreneur Professor Udrea commented: "I am delighted to once again be part of the Impulse Programme and work with inspiring people who have game-changing ideas. As an academic entrepreneur, I use my experience of turning an academic invention into commercial practise to help the next generation of inventors."
The Impulse Programme celebrates high levels of successful outputs:
Co-Founder and CEO, Jean de La Verpilliere at Echion Technologies, a company that develops superfast-charging lithium-ion batteries, was a participant in the 2017 programme, the same year he co-founded Echion. In August this year, Echion announced that it raised £10M in a Series A round of funding to support its growth plans that include a final push to commercial adoption and a recruitment drive.
Founder of transformative tech company eScent, Jenny Tillotson, who participated in the 2020 Programme commented: "Impulse has provided me access to the people and the framework to ensure that we are 'investment ready' for the next phase of development.  We now have an engaging and robust story to pitch to investors to help us secure the funds to miniaturise the scent delivery system and build partnerships in a variety of growing markets."
Supporting postdoctoral researchers to achieve success with early-stage projects is an important role of the Programme. In 2021, alumni and finalists in the Chris Abell Postdoc Business Plan competition, included Cambridge Conduits led by Alex Justin, Cambridge Nucleomics led by Kaikai Chen and Mohammed Alawami, and DeepForm led by Christopher Cleaver – joined other entrepreneurs on the Impulse Programme.
The 12-week hybrid Impulse Programme kicks off on 26th April 2022. Individual applications can be submitted by visiting the Impulse Programme website https://www.maxwell.cam.ac.uk/impulse-2022-application. If you are interested in your organisation partnering with the Impulse Programme, please email Yupar Myint at: impulse@maxwell.cam.ac.uk. The deadline for the next cohort is 20 March 2022.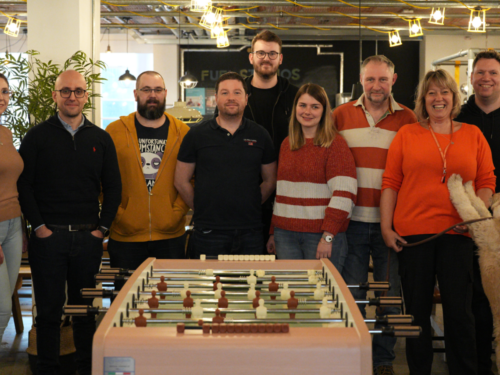 Norfolk-based Tech Educators has partnered with The Bradfield Centre to support eligible students wishing to become...