The International Festival of Learning
28th Jun 2019, 8am
ABOUT
The International Festival of Learning is more than just a one-off festival…it's a movement of interconnected educators and businesses, aligned with the same mission.
Founded in 2016 with a successful pilot involving more than 1200 delegates, the festival has grown in size and status – and now commands one of the top spots in the UK education calendar.
The key focus for 2019 is underpinned by the Pearson – Future of Skills Report
THE SIX TECH CHALLENGE AREAS
The 'Six Challenge Areas' draw inspiration from an announcement in August 2018 by Education secretary Damian Hinds, who issued a challenge to the technology industry – to bring about a "step-change in education".
We have added a sixth area – 'Leadership in an Ai World' – because we believe that the uniquely human skills of leadership will be vital in sustaining life in a world where artificial intelligence and humanity will increasingly co-exist.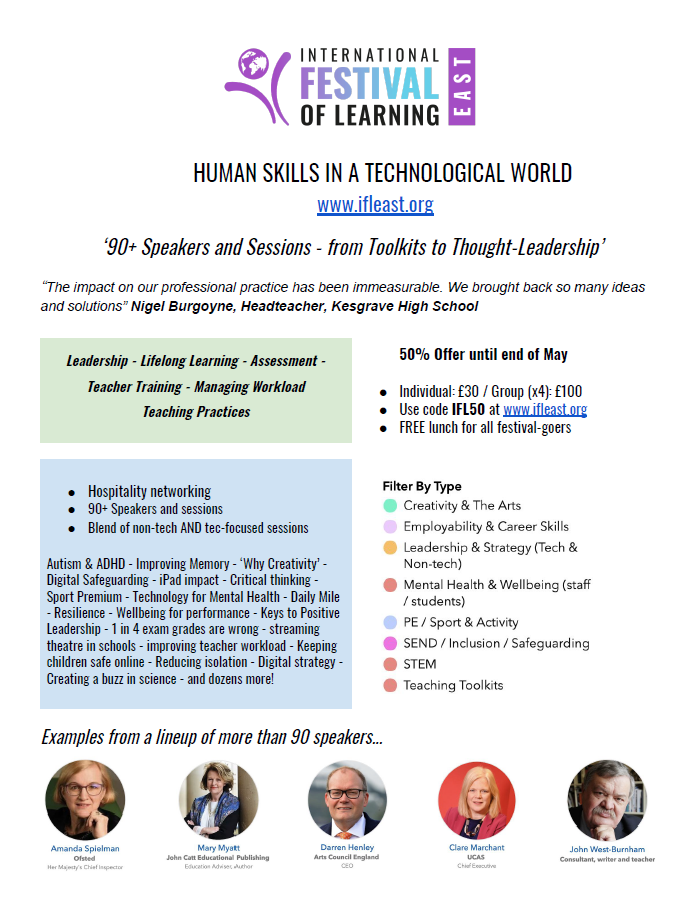 Book now
Out Risbygate
Bury St Edmunds
IP33 3RL