Funding Fit : Smart Sustainable Plastic Packaging
19th Jul 2021, 2pm
Find out more about the ISCF Smart Sustainable Plastic Packaging funding competition for businesses and see if you could benefit by applying
About this event
Reimagine. Collaborate. Succeed
Join a network of regional innovators and high growth business to find out more about the ISCF Smart Sustainable Plastic Packaging: Business-led R&D funding competition from Innovate UK, part of Research and Innovation. They will invest up to £7million from the Smart Sustainable Plastic Programme in innovation projects. Could your business project be one of them?
Do you have a project that could have the potential to significantly impact the 2025 UK Plastics Pact targets in the long term and address widely known problems related to plastic packaging for consumer products?
Does your project:
improve sustainability of the packaging supply chain
make a significant contribution towards delivering the targets for the UK Plastic Pact
utilise at-scale innovation in design, technology, processes, business models, supply chains or data for plastic packaging
embed a whole systems approach to plastic packaging sustainability, considering environmental, economic, and social factors
The competition will award grant for suitable and eligible projects from between £200,000 to £4 million per project. If you think you could have a suitable project, then join us for to learn more and discuss the opportunity and your idea. The deadline for applications for this grant is 8th September 2021.
This event is part of Funding Fit, a new programme of events organised by the Cambridge Norwich Tech Corridor and New Anglia LEP to help businesses connect, collaborate and apply for grant funding.
During the one-hour session participants will get a jargon-free overview of the two funding calls which will cover
Details of scope of the specific funding opportunities
Details on what is and is not covered by the funding
Guide to the application process
Open and interactive session where businesses can put forward and share ideas about projects that fit the call and where there are opportunities for other businesses and organisations to come in as collaboration partners
Details on how to access to support post session to put together a bid
This will be an interactive session and we urge all attendees to consider the information above and come with ideas (big or small) and an open mind.
Please note that the first part of this session will be recorded to enable you to review at a later date or share with colleagues post the event if you wish. The live open Q&A session will not be recorded.
If you would like to enquire further before registering for this event, please contact sue.simmons@newanglia.co.uk.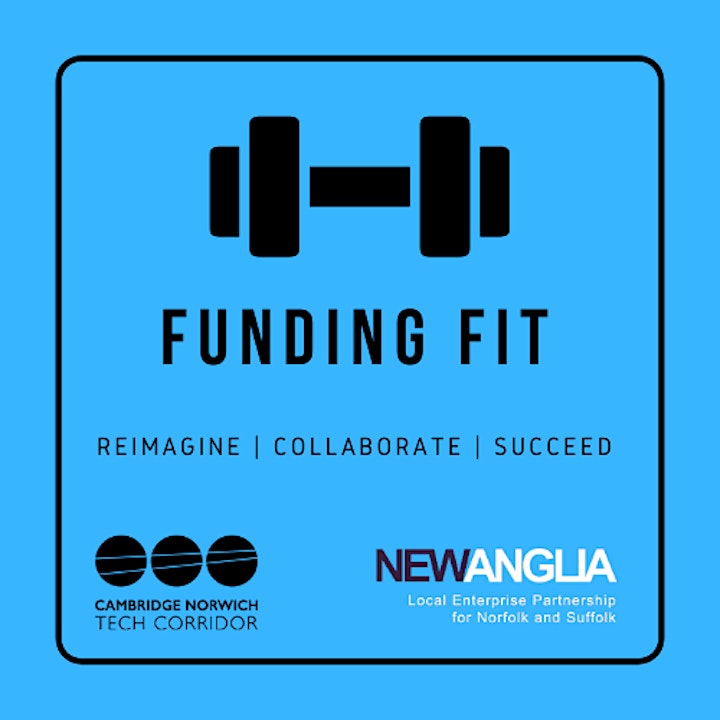 Book now
Online Event
Organiser: Cambridge Norwich Tech Corridor