Funding Fit : Creative Industries Fund for Micro & Small Businesses
26th May 2021, 2:30pm - 3:30pm
Join fellow creative sector innovators to find out more about the new £2.5 million Creative Industries Fund
About this event
Reimagine. Collaborate. Succeed
Innovate UK, as part of UK Research and Innovation, is launching a new competition, the Creative Industries Fund, investing up to £2.5 million in innovation projects.
The aim of the Creative Industries Fund is to provide a package of targeted support for growth so ambitious, creative businesses can reach their potential. UK registered micro and small businesses in the creative sector can apply for a package of support to grow their business. This package includes ongoing support from Innovate UK EDGE and funding of up to £25,000 for innovation projects.
Innovate UK is looking to fund projects which:
offer a clearly innovative and ambitious idea
are new to your business
create a new revenue stream, for example, new products, services or IP
respond to the changing market conditions, such new modes of audience
consumption, or the adoption of new technologies within the sector
will be market-ready within 12 months of receiving support
are able to start rapidly
represent value for money.
The Creative Industries Fund is open to all businesses who have never previously received innovation grant funding from Innovate UK.
If you would like to learn more and find out if your business might be eligible for this funding competition, as well as get tips and advice on how to apply, join us at Funding Fit.
Funding Fit, is a new programme of events organised by the Cambridge Norwich Tech Corridor and New Anglia LEP to help businesses connect, collaborate and apply for grant funding. This presentation will be in partnership with Innovate UK EDGE.
During the one-hour session participants will get a jargon-free overview of the funding call which will cover:
Details of scope of the specific funding opportunities
Details on what is and is not covered by the funding
Guide to the application process
Open and interactive session where businesses can put forward and share ideas about projects that fit the call and where there are opportunities for other businesses and organisations to come in as collaboration partners
Details on how to access to support post session to put together a bid
Please note, the deadline for applications for this fund is the 16th June 2021.
This will be an interactive session and we urge all attendees to consider the information above and come with ideas (big or small) and an open mind. The first part of this session will be recorded to enable you to review at a later date or share with colleagues post the event if you wish. The live open Q&A session will not be recorded.
Please also note the data collected by Eventbrite will be shared with our partner Innovate UK EDGE, unless you've opted out. To understand how they manage your data, please view their Privacy Notice.
This does not conflict with any statements set out in Eventbrite's Privacy Policy.
If you would like to enquire further before registering for this event, please contact sue.simmons@newanglia.co.uk.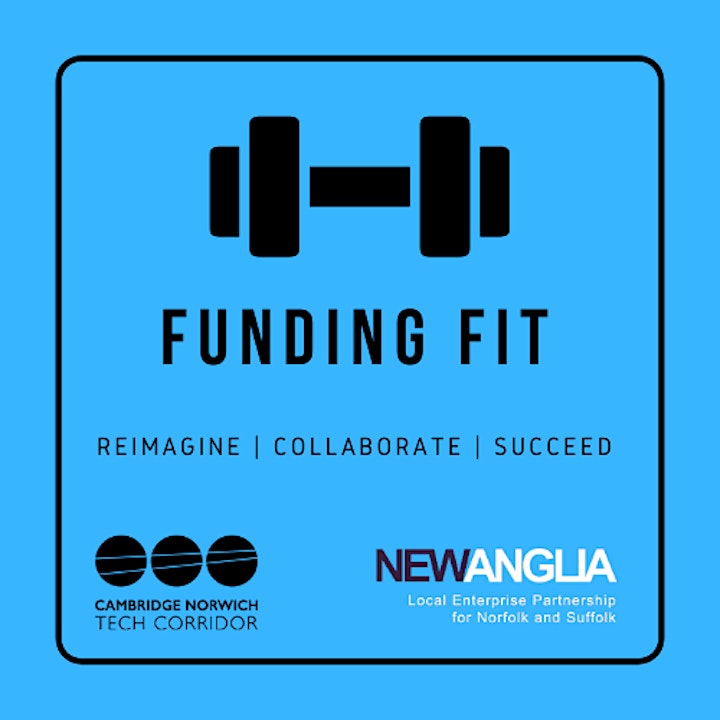 Book now
Online Event
Organiser: Cambridge Norwich Tech Corridor