Connected Innovation: collaboration, convergence and clean growth
13th Jul 2021, 9:30am - 4pm
Innovation conference with a gallery of support
About this event
Curious about innovation? Join this conference to learn from leading innovative companies about how they get it right and gain the knowledge to apply innovation in your business.
Expert speakers will outline how they have harnessed technology to grow their businesses.
Practical workshops will provide you with the tools you need to access innovation support and funding.
Morning Session (9.30-11.45am):
• Welcome & Introductions – Johnathan Reynolds, Chair of New Anglia LEP's Innovation Board & Director of Opergy
• Keynote speaker – Ian Meikle – Director for Clean Growth and Infrastructure for Innovate UK.
• Business focus – Innovative businesses showcasing innovation supporting the transition to net zero:
Afternoon Session (2-3.45pm) On registering you will have a choice to select up to 3 of our "Gallery of Support" partners you'd like to hear from.
• The Gallery of Innovation Support for businesses with breakout rooms hosted by:
• Group Q & A and Summary
This event is part of the programme of events linked to the Connected Innovation Project, funded by Norfolk Strategic Fund (NSF) and Suffolk Inclusive Growth & Investment Fund (SIGIF), which links Norfolk and Suffolk's innovation hubs and clusters together to increase connectivity, cross sector collaboration and drive business innovation.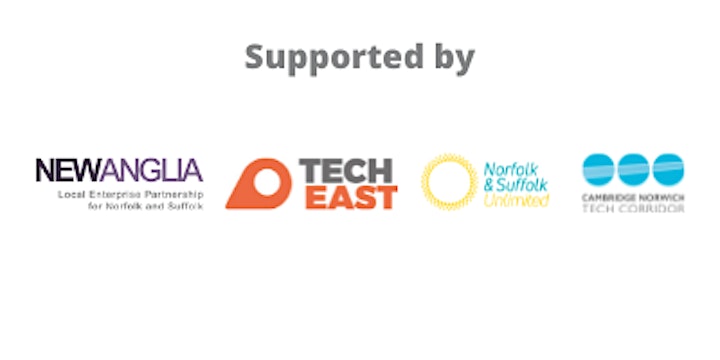 Book now
Online Conference
Organiser: Tech East and Partners