Collusion 2019: an exploration of emerging technology through extraordinary art
12th Apr 2019 - 22nd Apr 2019, 11am - 7pm
New interactive artworks exploring our complex relationship with emerging technology will soon pop up outside Cambridge Junction in pavilions designed by architect Charles Holland.
The brief was to both interrogate and incorporate technologies such as artificial intelligence, data culture, and augmented reality, working with Cambridge-based technology and innovation leaders Cambridge Consultants and Arm and other collaborators. The works – commissioned by arts and technology organisation Collusion from 120+ applicants – include:
2030, visitors become guests at a party set in a 2030 home hosted by a virtual assistant (Russian Doll meets Alexa!)
Datacosm, a multi-narrative film driven by live music and AI explores our data driven digital lives with progammers as puppeteers
Doomsday Blockchain, a memorial to the 21st century that broadcasts hidden messages excavated from the Bitcoin blockchain
TEO, an AI-driven personal-avatar creation device using facial tracking to give visitors a glimpse of the revolutionary and dystopian potential
Above the Surface, a look at our relationship with material objects and consumption through the lens of augmented reality
My fingers distended as honey dripped from your lips and we danced in a circular motion, a dance performed in 360° video that reorients and disorients viewers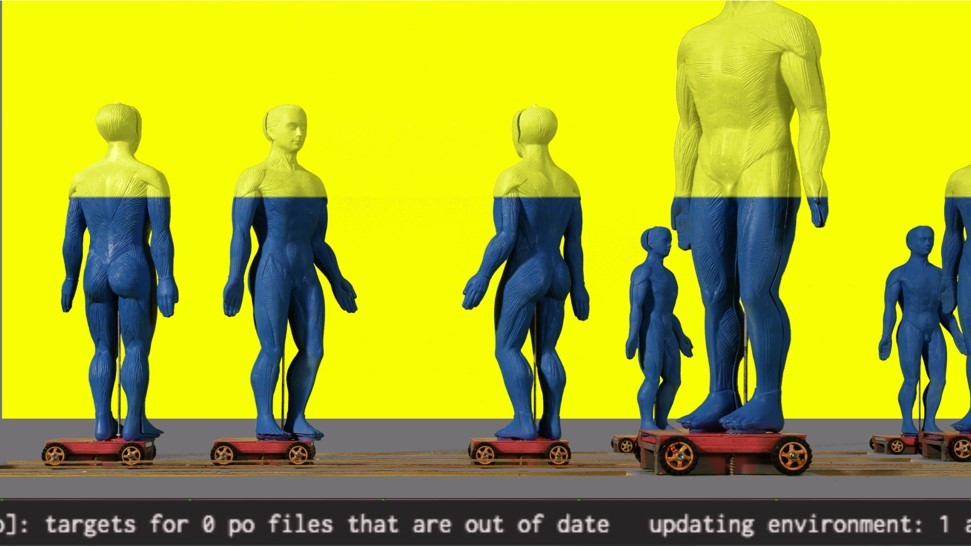 Photo credit: DATACOSM, by Jo Lawrence // Collusion 2019. Image courtesy of Jo Lawrence.
"Over recent years we've seen the emergence of highly sophisticated 'deep' technologies that hold world-changing potential and significant social impact," says Richard Traherne, project sponsor and Chief Commercial Officer of Cambridge Consultants. "We've provided experts in disciplines ranging from user experience to artificial intelligence, to collaborate with Collusion to help explore these implications and prompt artistic reflection and debate. We've found the project fascinating – an unusual combination of technical and artistic perspectives examining the potential of technology, resulting in thought-provoking art that's accessible to a broad audience."
Collusion 2019 is a showcase representing the culmination of in_collusion, a three-year programme of work supported by Arts Council England, the Cambridgeshire & Peterborough Combined Authority, Cambridge Consultants, Arm, and a range of partners including local authorities, business improvement districts, higher education providers, arts organisations, and cultural development programmes. The programme supports artists, creatives, and businesses in developing new skills, exchanging ideas, and encouraging collaboration involving emerging technologies. It has so far engaged over 2,100 people in more than 400 hours of activity.
Amy Vaughan, Director, Cambridge and Touring, Arts Council England, said: "In Collusion is once again showing how digital technology can help artists to challenge audiences in new and engaging ways. These are all really accessible and it is exciting that so many people will have the chance to experience these interactive installations."
Collusion 2019: An exploration of emerging technology through extraordinary art is open from 12 to 22 April 2019. Opening hours: Monday – Saturday 11am to 7pm; Sundays 12 noon to 5pm. Please allow 60 to 90 minutes to visit all the works.
Twitter: @in_collusion             Facebook: /InCollusion           Instagram: @incollusion
Book now
Clifton Way
Cambridge
CB1 7DY UK